Let's talk about the most important part of your online business…
The Online Sales Funnel:
Understanding your online sales funnel is the single most important part of your digital marketing strategy.
Not all digital channels are equal, and not all online audiences are at the same stage of the decision-making process. That is the all-important decision to do business with you.
---
Why Is The Sales Funnel So Important?
A lack of understanding of the sales funnel leads to ineffective advertising, and a broken marketing cycle. Your business is unique and so too is your sales funnel. It is the journey potential customers take on the path to doing business with you.
And at most of the steps along the way are the touch points where digital marketing channels have particular strengths and weaknesses.
For many small-medium Irish businesses, advertising and marketing budgets are limited. Not everyone can afford TV, radio or to advertise on the side of a bus. And in this fast paced, online & very mobile era, your potential customers might not be there anyway.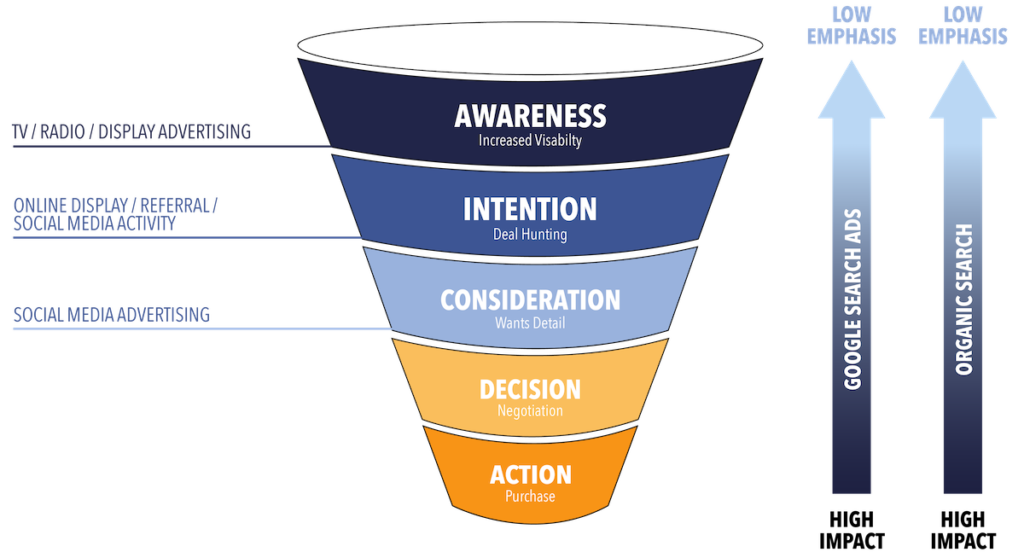 ---
Analytics Is Key
You can't argue with numbers. And if you're not measuring online traffic performance properly you won't be able to gauge the effectiveness of both your website and your digital marketing channels. With the combination of the Google Tag Manger and Google Analytics we have the detail to make data-driven decisions that increase online sales.
Some examples:
What is your highest value online conversion path?
Which of your online advertising channels has the highest abandonment?
Is your brand awareness down to luck? Or are your brand advertising promotions driving assisted conversions?
Is your lower funnel activity effectively driving sales, but rarely return business?
Is your SEO driving branded traffic only or target keyword traffic with new sales?
How can you reduce your cost per acquisition from Google search ads?
Is your social media having an impact on potential customer buying decisions?
---
But Which Digital Channels Work Best?
Display advertising is the king of the top of the funnel. It is perfect for brand awareness. This is why you typically pay for impressions. Eyes on your brand, and your most concise USP, spiel or slogan. Use display to create the perception around your brand.
Organic social media is also a great opportunity for brand retention where you can remind your existing online follower-ship of the value your business offers. Most social media platforms aren't designed to let everything organically cut through the noise, because that's what paid social advertising is for…
The middle of the funnel is where your potential customer is considering their options, and is looking for details. They may not quite be ready to pull out the cheque book but they want more information. This is where your search marketing (SEO & Google Ads) shines. The right keywords and queries drive qualified potential customers to your website landing pages. Your content and the user experience of your website turn users on the fence into real customers. Paid social media conversion campaigns targeting look-a-like audiences and specific interests, even after iOS 14, work to drive the middle and top funnel interest to the checkout.
---
Organic Search Still Rules The Lower Funnel
Organic search is one of the only digital marketing channels to cover the entire online sales funnel, but with an emphasis on driving lower funnel conversions. That is, with effective Search Engine Optimisation.
Need help with your SEO?

Digital Marketing
-
Search Engine Marketing
-
SEO Services Ireland
-
Social Media Marketing
-